Level up your grooming game with Environmanly's Serum Revolution!
Ditch those old oils and powders and say hello to our game-changing combo.
Our superhero Hair & Beard Serum, along with the soothing Intimate Serum, will make personal care a breeze.
Get ready to unleash your superhero potential and experience hassle-free grooming like never before!

Regular price
Rs. 2,048
Sale price
Rs. 1,638
( 20% off)
Unit price
per
Intimate Serum (100 ml):
Provides relief from tacky powders, deodorant sprays and oily creams
Fights odour and prevents itching
Brightens the skin of intimate areas
Deeply moisturises the skin
Fragrance: Woody Spicy (Limited Edition)
pH-balanced and non-sticky in nature
Hair & Beard Serum (50 ml):
Nourishing and Strengthening of hair and beard
Made with cold-pressed natural oils
Anti-frizz and adds shine
Moisturises the skin surface underneath
Improves scalp health
Non-sticky in nature
Suitable for all hair and beard types
Fragrance: Bergamot
View full details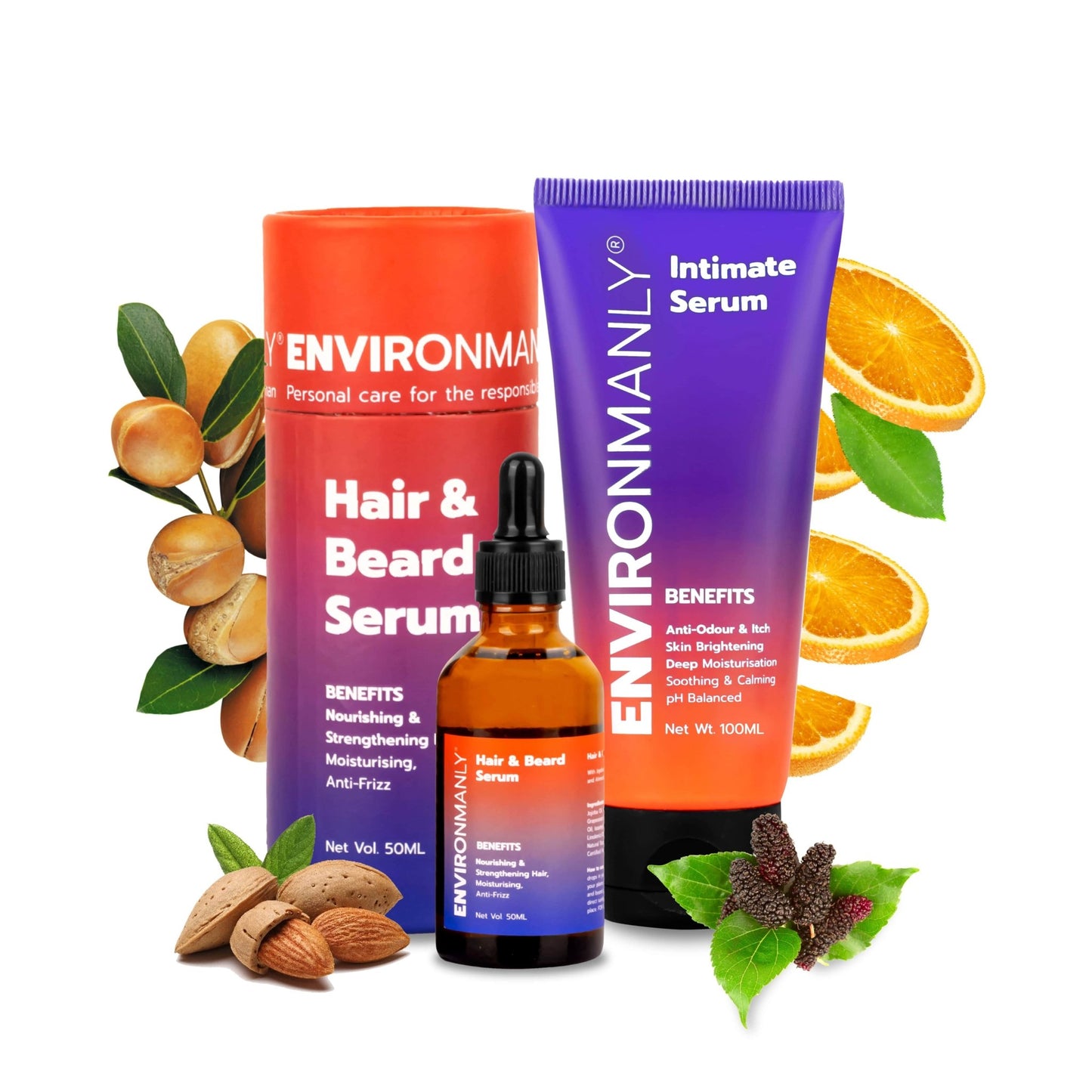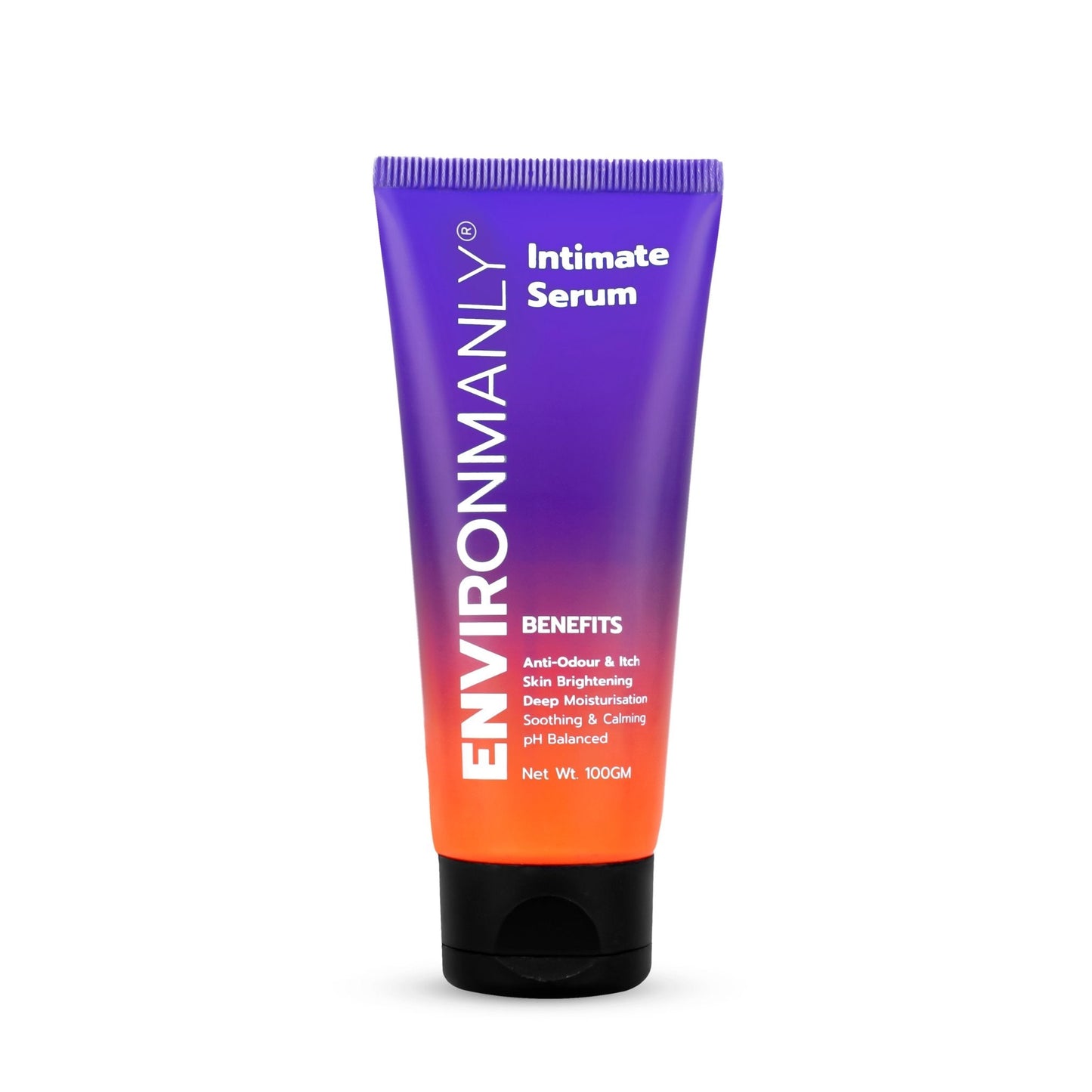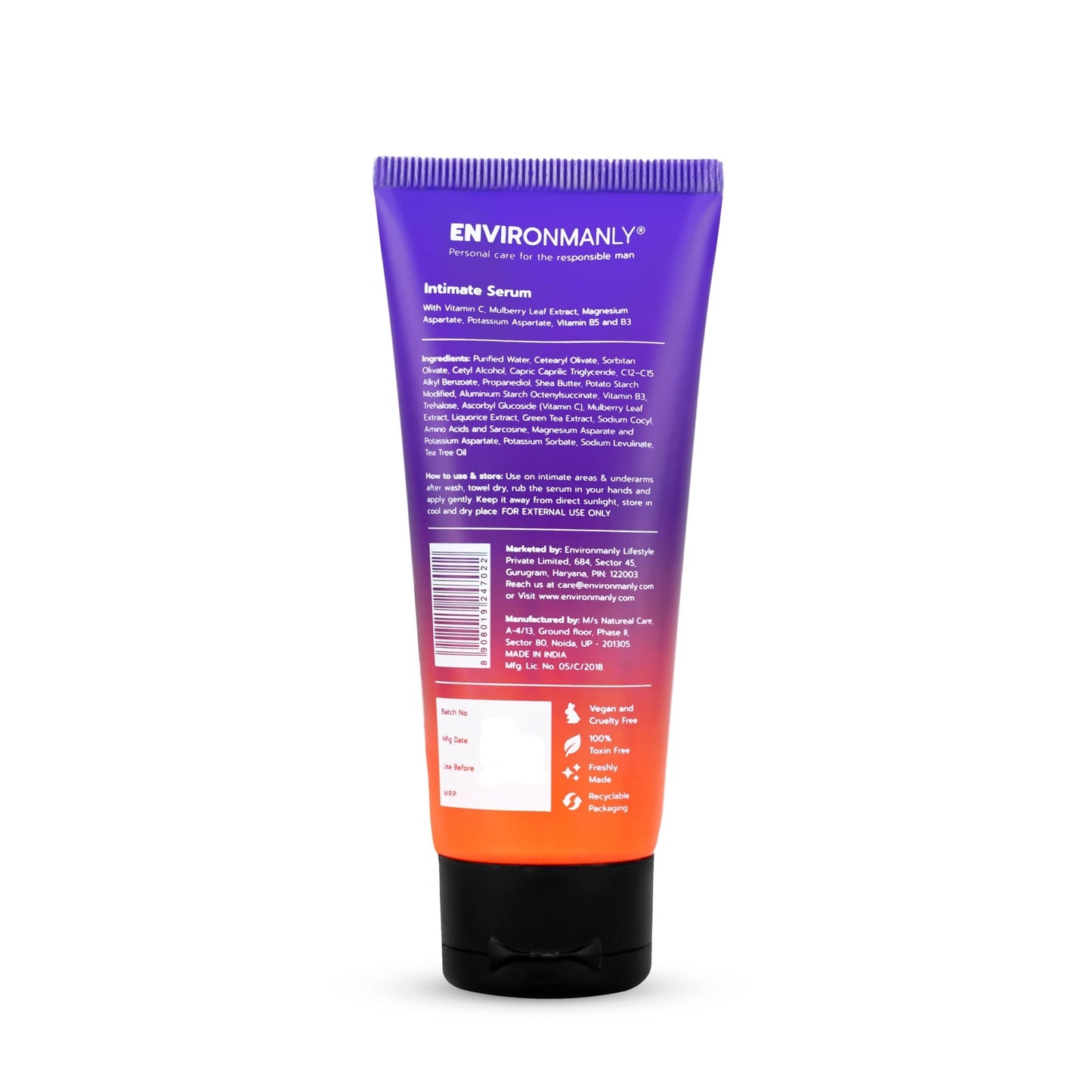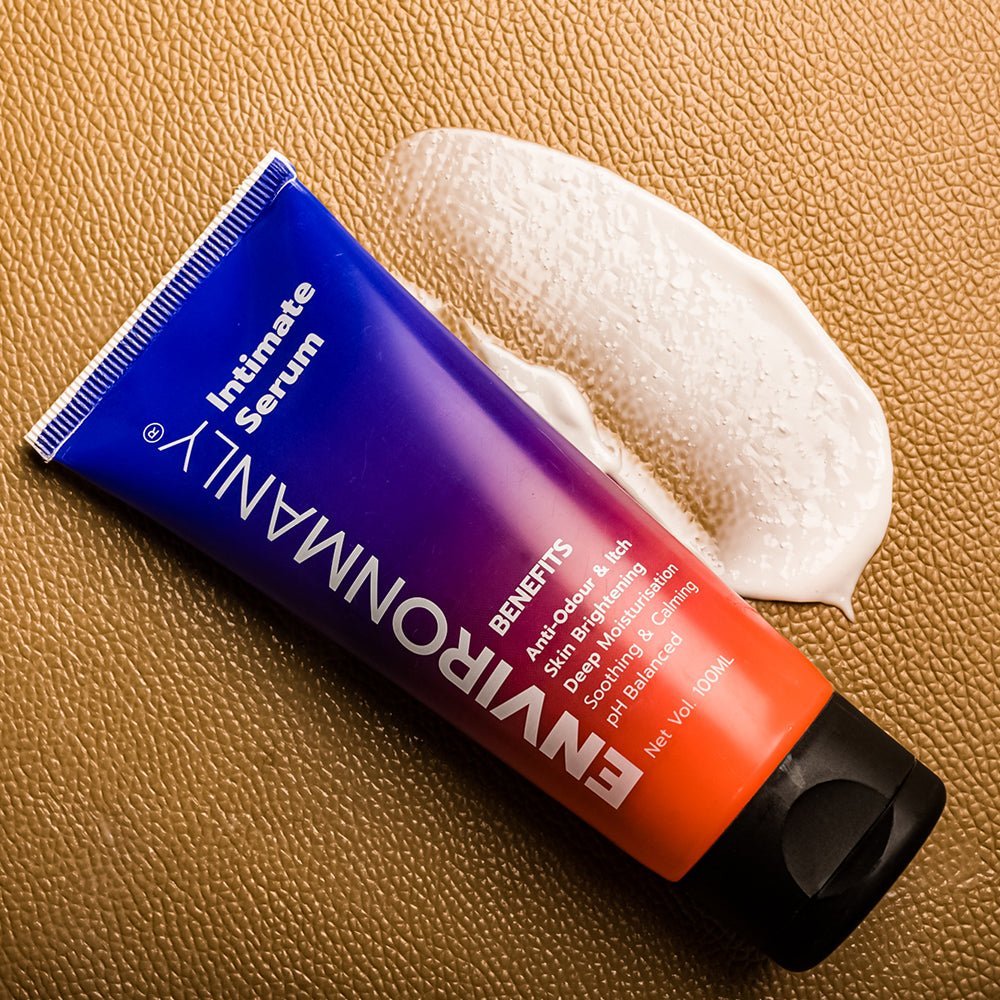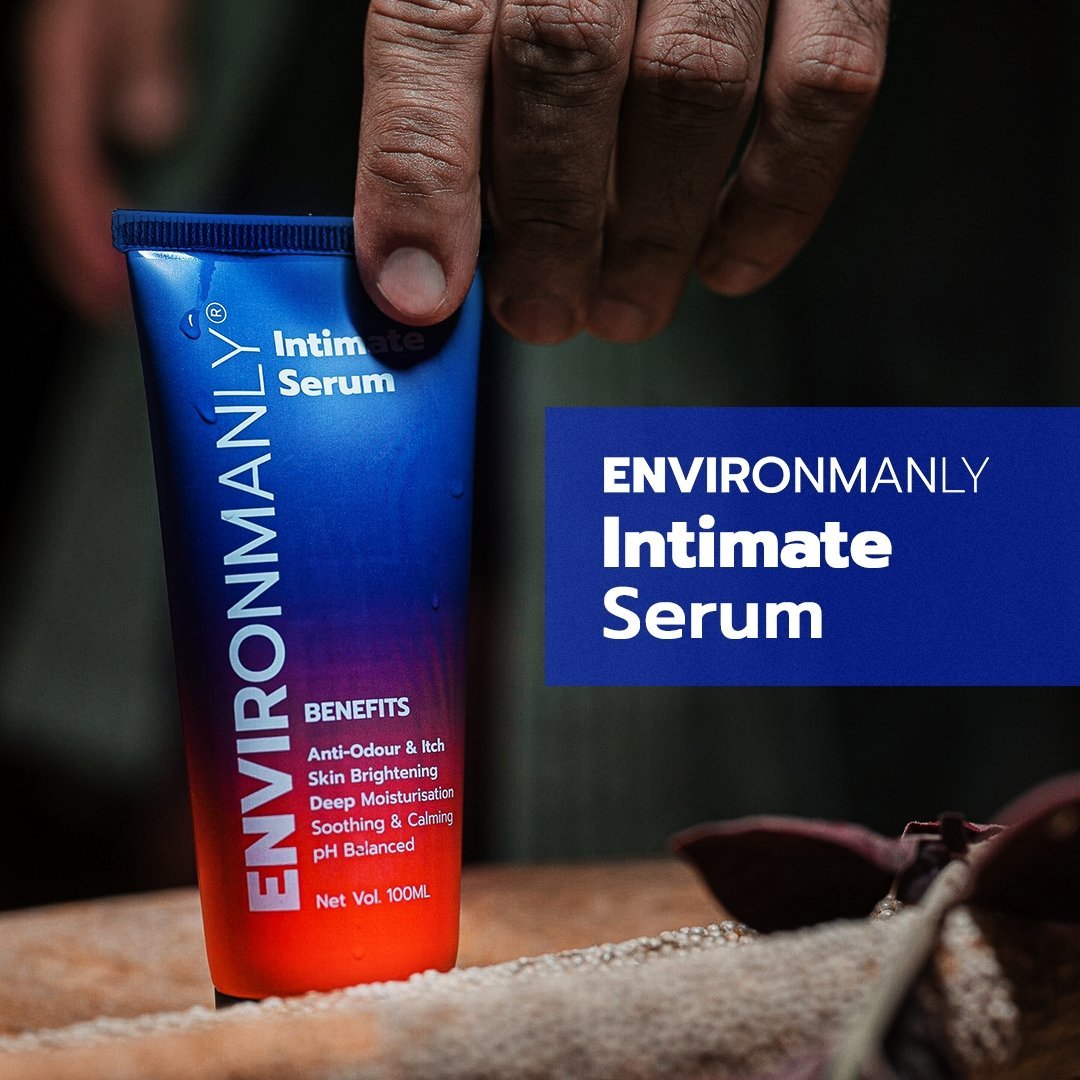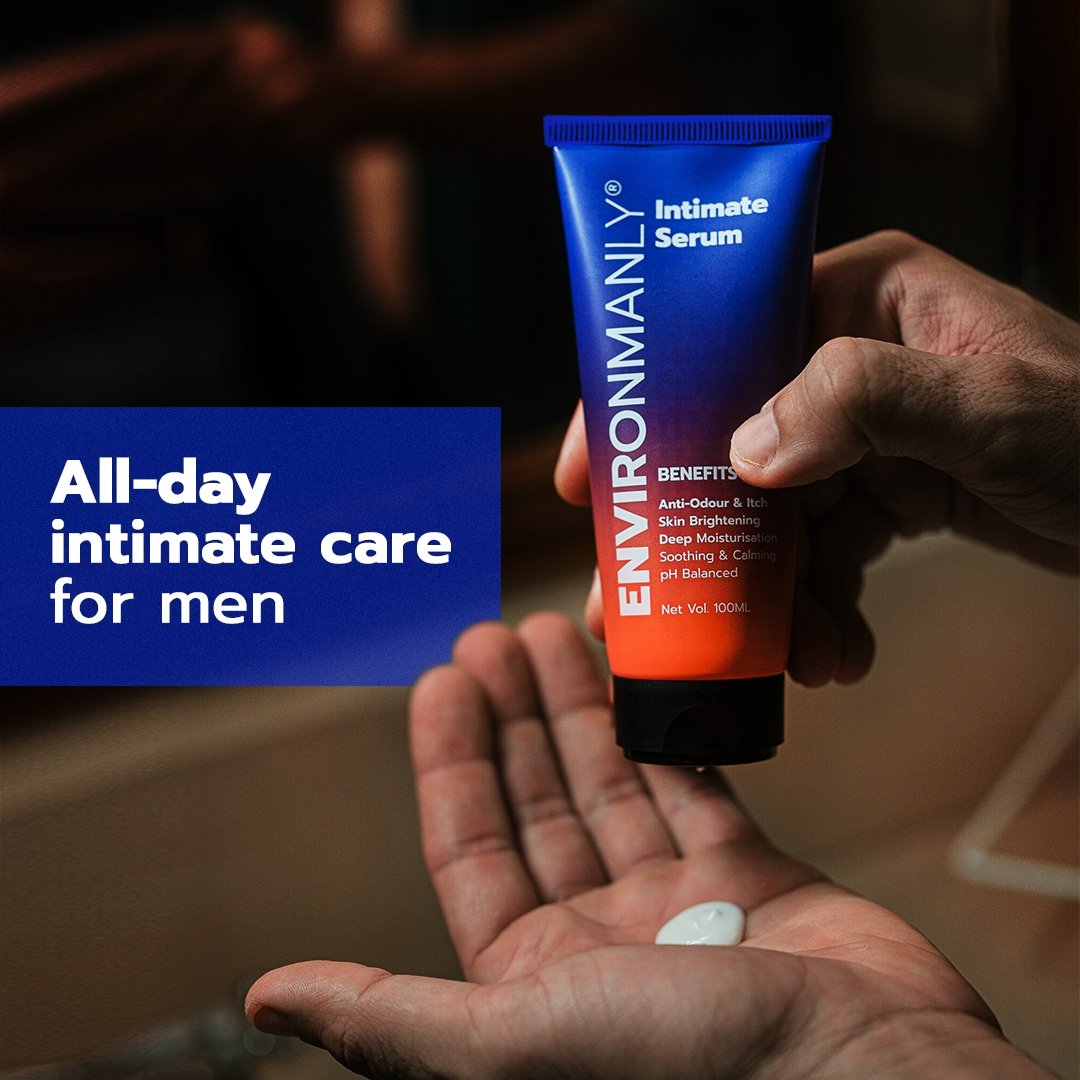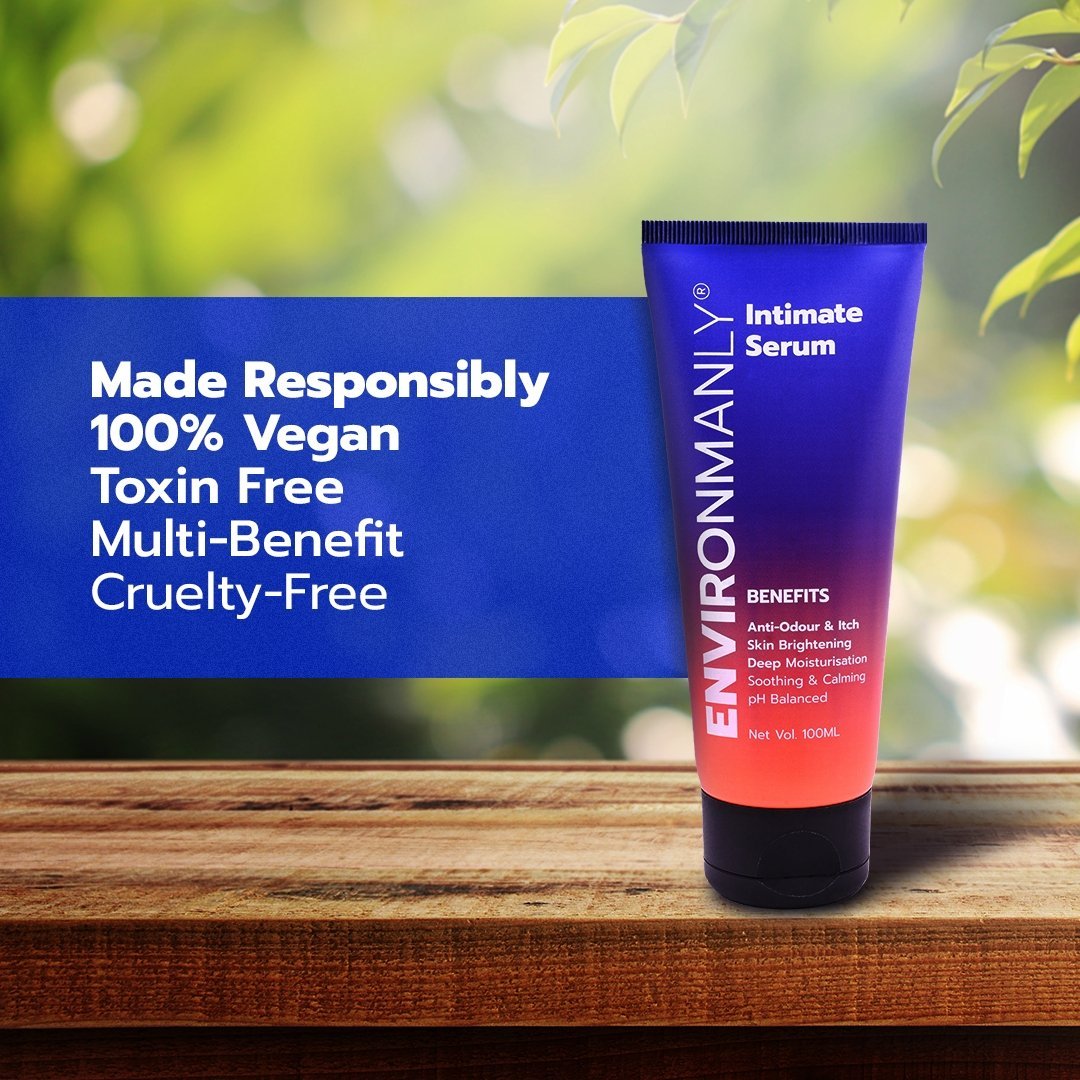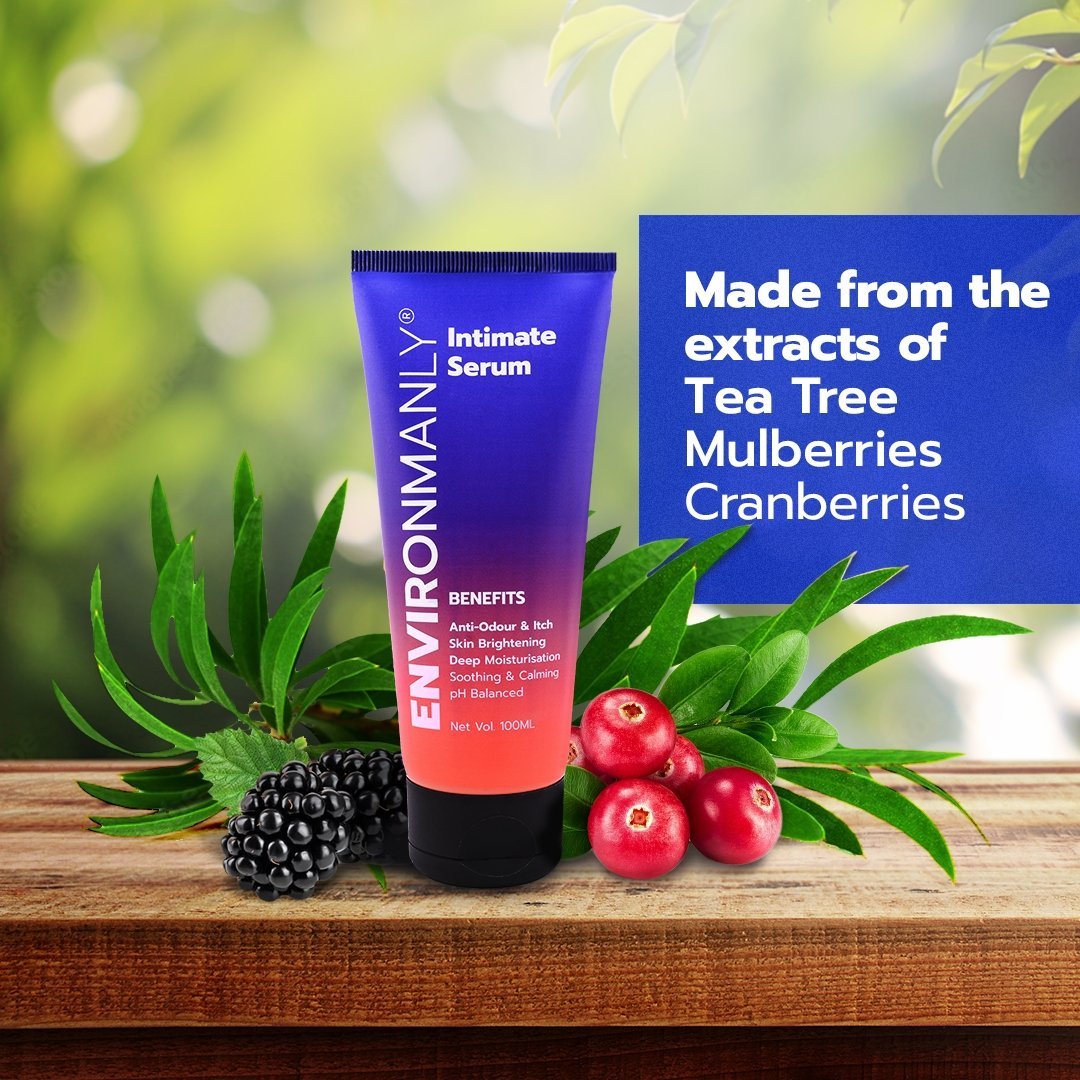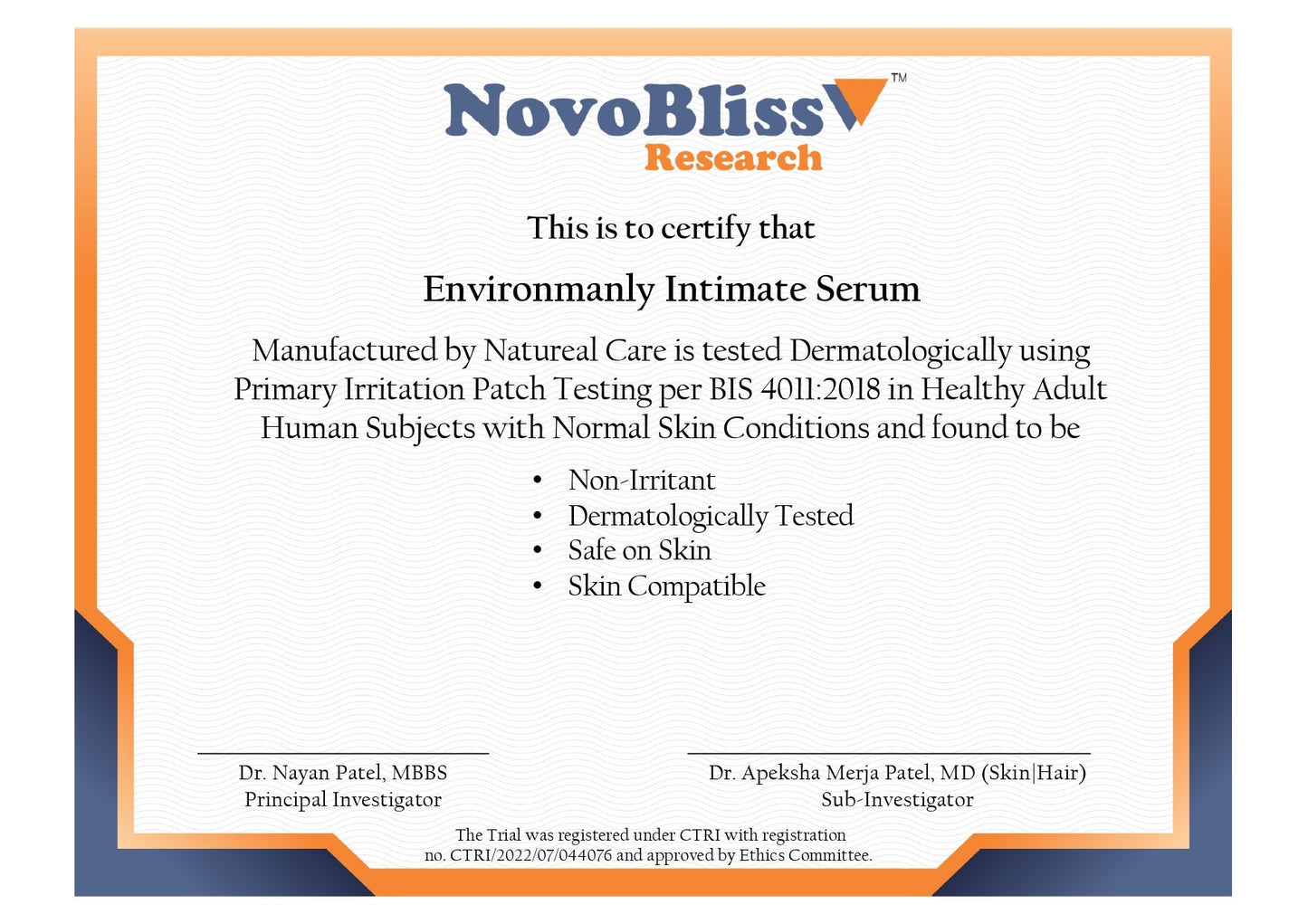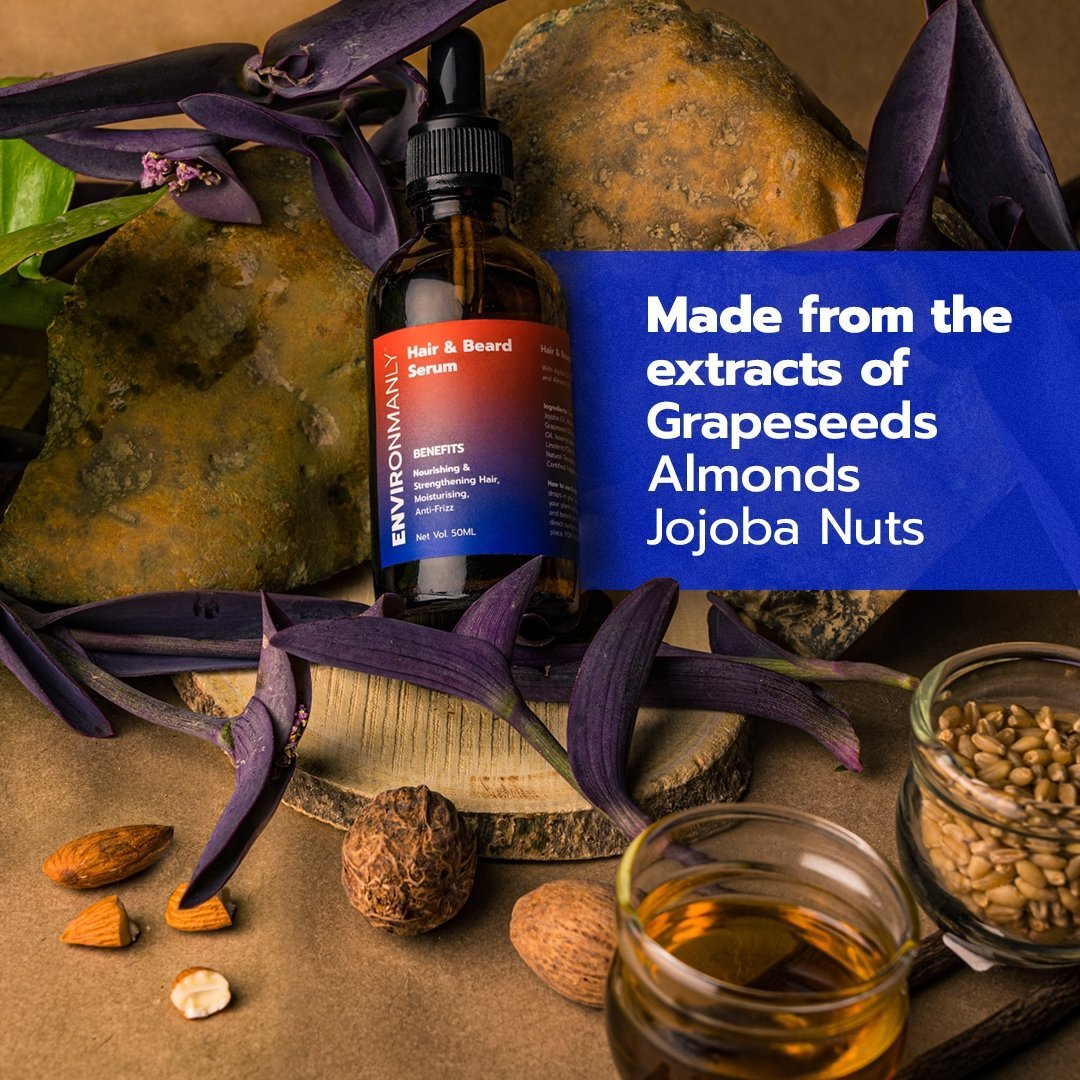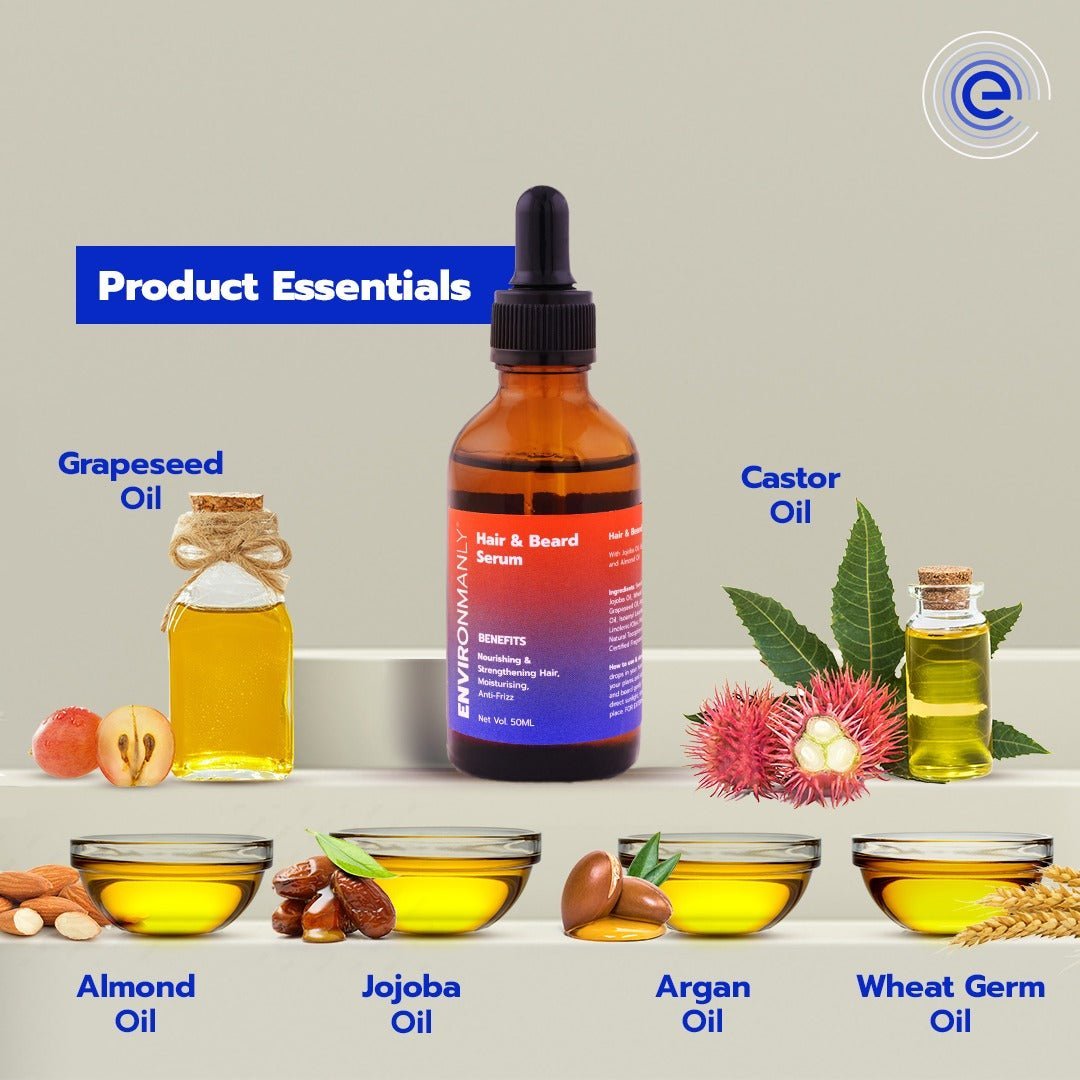 Benefits

Intimate Serum:

Freshness up to 12 hours
Anti odour and Anti itch
Skin brightening
Deep moisturisation
pH balanced and non-sticky in nature

Hair & Beard Serum:

Gives instant shine, nourishment, and volume to your hair and/or beard
Strengthens the hair shaft
Non-sticky compared to traditional oils.
Perfect for use, any time of the day
Usable as a pre-styling product
How To Use

STEP: 1

Take out the serum in your palms

STEP: 2

Rub it in your hands

STEP: 3

Apply it to your Intimate area and underarms

STEP: 4

Use the dropper to pour serum into your hands

STEP: 5

Rub the serum in your hands evenly

STEP: 6

Apply to the roots of your hair and beard
Ingredient

Mulberry leaf extract

Mulberry extract acts as a whitening agent as it contains phenyl flavonoids that inhibit the activation of tyrosinase, preventing the darkening of skin.

Vitamin C

It has brightening and tone-improving benefits, enhanced by niacinamide and excellent antioxidants to improve skin's environmental defenses

Tea tree oil

Tea tree oil can help soothe dry skin by reducing itching and irritation

Vitamin B3 and Vitamin B5

Vitamin B5 is vital to maintaining good skin quality. Possible skin benefits of Vitamin B5 include moisturizing, rejuvenating, and soothing properties. Vitamin B3 s a stable vitamin that offers a wide range of well-documented topical benefits.

Jojoba oil

Jojoba oil mimics the skin's own sebum making it a effective skin moisturizer, rich in beauty-boosting vitamins A, E, and D, plus antioxidants and fatty acids

Grapeseed oil

Grapeseed oil is a good source of vitamin E, even more so than olive oil. Vitamin E is a vitamin that works as a fat-soluble antioxidant, which helps protect your cells from damaging free radicals

Almond oil

Almond oil is rich in vitamin D, vitamin E (Tocopherol), and various minerals that help soothe the skin from irritation, protect the skin from UV radiation damage and restore the skin's moisture barrier

Castor oil

Castor oil's fatty acids are natural humectants, substances used to moisturize the skin by preventing water loss. This effect can promote good skin health, relieve dryness, and soothe skin inflammation.

Wheat germ oil

Because of its high Vitamin E content, wheat germ oil helps in building collagen

Argan oil

Argan oil naturally help revitalize skin, increases hair's elasticity and consistently restores shine to dull, lifeless hair .It is a powerful antioxidant, UV protector and free radical neutralizer.
Full Ingredeints

Intimate Serum:
Purified water, Cetearyl Olivate, Sorbitan Olivate, Cetyl Alcohol, Capric Caprilic Triglyceride, C12 - C15, Alkyl Benzoate, Propanediol, Shea Butter, Potato Starch Modified, Aluminium Starch Octenylsuccinate, Vitamin B3, Trehalose, Ascorbyl Glucoside (Vitamin C), Mulberry Leaf Extract, Liquorice Extract, Green Tea Extract, Sodium Cocyl, Amino Acids and Sarcosine, Magnesium Aspartate and Potassium Aspartate, Potassium Sorbate, Sodium Levulinate and Tea Tree Oil.

Hair & Beard Serum:
Sweet Almond Oil, Jojoba Oil, Wheat Germ Oil, Grapeseed Oil, Argan Oil, Castor Oil, Isoamyl Laurate, Hydroxystearic / Linolenic / Oleic Polyglycerides, Natural tocopherol & IFRA certified bergamot fragrance
Frequently Bought Together
Regular price
Sale price
Rs. 899
( Liquid error (snippets/price line 33): divided by 0% off)
Unit price
per
Regular price
Rs. 999
Sale price
Rs. 899
( 10% off)
Unit price
per
FAQ(s)
How to use intimate wash?
Use it on intimate areas and underarms after wash, towel dry then rub the serum in your hands and apply gently. It keeps you fresh for upto 12 hours and will help with odour, itching and maintain the correct PH balance.Use it on intimate areas and underarms after wash, towel dry then rub the serum in your hands and apply gently. It keeps you fresh for upto 12 hours and will help with odour, itching and maintain the correct PH balance.
Is your Hair and beard serum better than beard oils?
Yes, our hair and beard serum is an upgraded version of an oil that makes your hair and beard feel less oily, light, helps remove frizz, moisturises and nourishes the hair as well as the skin surface underneath to prevent flakiness, itching.
Can I use hair and beard serum daily?
Yes absolutely, in fact we advise using this product twice everyday - once after shower and once before going to bed. take a few drops in your palm and massage them gently to the roots of your hair and incase you have a beard - do the same.
How can I track my order?
All orders are dispatched within 24 hours and delivered within 1-3 business days depending on your pincode. A confirmation email is sent to you by our logistics company once the order has been dispatched.
Do men need a proper personal care routine?
Yes, environmanly mainly focuses on men to groom entirely from personal care to physical grooming.
How do I return my tubes?
Once used, you can return 4 or more tubes to us and avail 25% discount
How is environmanly eco-friendly?
Environmanly has vegan and all natural products with an eco-friendly packaging of kraft paper wraps and biodegrable boxes.
How can I modify my address and phone number?
Once you have placed your order, your address and phone number cannot be modified. From the time we receive an order our products are shipped out within a very short window, and hence once dispatched, they cannot be modified.
How do I cancel my order?
Once your order is placed, it cannot be cancelled.
What is the expected time period for a refund to be successful?
All approved refunds will be made in the original Method of Payment within 7 working days. The same will be reflected in your bank statement if paid online.
Do you post outside India?
We currently don't ship outside India! If you're interested on being kept in the loop, do email us at care@environmanly.com for updates!
good combo and value for money
genuine products and must try
love the Environmanly products
the hair and beard serum works better than oils and has all benefits of beard oils, I have a medium length beard and use it twice daily.
the intimate serum is a genuinely innovative product that helps in all day comfort in genital area for me, it takes sometime to show effects as its plant based but it works well, be patient and use it.
Both products are fantastic and I am a repeat buyer of environmanly
I tried the intimate serum first and then bought the combo to try the hair and beard serum and it was offering 20% discount, but I love the beard serum too, its great for my scruffy beard and I use for my hair too. better than oils.
Intimate serum I am a fan! and its my daily goto product